SSPI handshake failed.

Applies to: Microsoft SQL Server 2005.


Error Message.

Event Type: Error
Event Source: MSSQLSERVER
Event Category: (4)
Event ID: 17806
Date: 10/5/2007
Time: 3:00:01 AM
User: N/A
Computer: SQLCLUSTER
Description:
SSPI handshake failed with error code 0x80090304 while establishing a connection with integrated security; the connection has been closed. [CLIENT: <ip address>].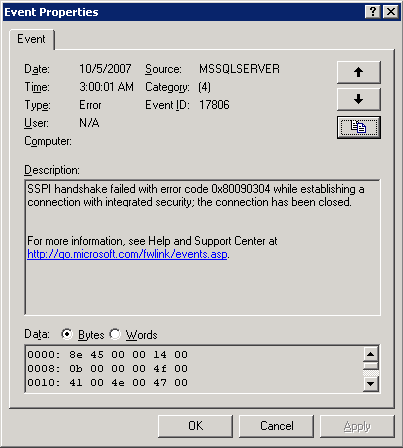 Problem Description.

In our case the server that is showing the error has the MSSQLSERVER service running using a domain account that had a password change yesterday. All client/server applications were up and running, but all jobs started to fail, and we were unable to connect to the databases on that server using SQL Server Management Studio, returning an SSPI context error.


Solution.

Restarting the MSSQLSERVER service with the new credentials was the solution.