Warning SysmonLog Event ID 2059.

Applies to: Windows Server 2003, Microsoft SQL Server 2005.
Error Message.

We were using Windows Server 2003 Performance Monitor with a counter log to monitor remotely a Microsoft SQL Server 2005 instance. For a few months it worked fine, but suddenly we started to receive zero values on the counters and the following event was logged in the Application Log of the server capturing the performance data:
Event Type: Warning
Event Source: SysmonLog
Event Category: None
Event ID: 2059
Date: 2/8/2008
Time: 5:54:58 PM
User: N/A
Computer: WINSVR2K3
Description:
Invalid user name or password for the SQLSVR2K5 log session. This session will not be started.

For more information, see Help and Support Center at http://go.microsoft.com/fwlink/events.asp.
Data:
0000: c6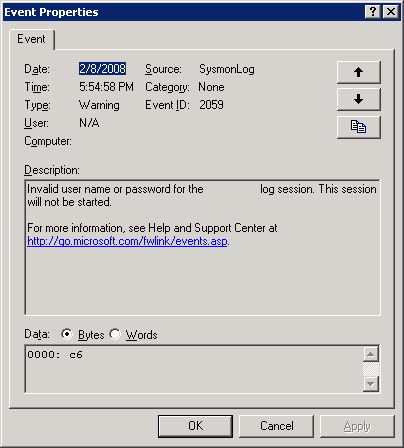 Cause.

The account used in the Performance Monitor's counter log was taken out of the members of the Performance Log Users group on the server where the Microsoft SQL Server 2005 instance was installed.

Solution.


To monitor a server using Performance Monitor, the account used for this task should be assigned the local Administrators group, to the Domain Admins group or to the Performance Log Users on that server.