Cannot Open User Default Database.

Applies to: Laserfiche Workflow 8 on SQL Server 2005.
Problem Description.

We were configuring the Workflow Subscriber for Laserfiche 8 using the Workflow Subscriber Configuration Utility, but while this utility was creating the workflow database as part of the configuration process, we received the following error message on screen:

Workflow Subscriber Configuration Utility
Cannot open user default database. Login failed. Login failed for user 'laserfiche'.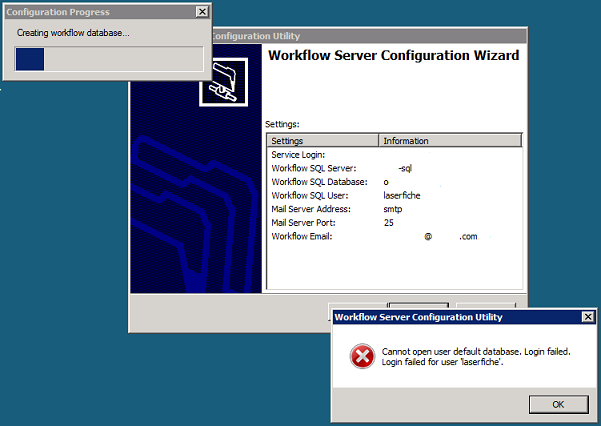 Cause.

SQL login does not exist on the "Workflow SQL Server" or the name of the "Workflow SQL Server" is incorrect.

Solution.

Verify you created a SQL login for the Laserfiche application on the SQL Server instance.
Also verify the name of the SQL Server instance you provided to the Workflow Server Configuration Utility is correct.