Error Installing System Center Operations Manager 2007 Database on SQL Server 2008.

Applies to: System Center Operations Manager 2007 SP1, SQL Server 2008 SP1 CU4.
Problem Description.

We received the following error while running System Center Operations Manager (SCOM) setup for installing SCOM2007 SP1 database on SQL Server 2008:

"Setup cannot locate the SC database.
Setup could not locate the SC database on the specified server."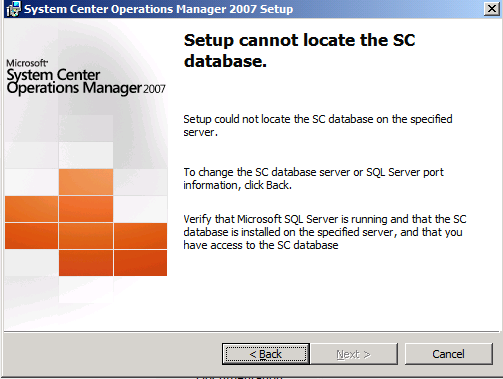 Trying to make it work, we created a new database on the SQL Server 2008 to be used by SCOM setup, and re-run SCOM setup again but received the following error:


"Invalid Microsoft Operations Manager Database Version.
Setup found that the Microsoft Operations Manager database version on the specified database server is not the same as the current product version."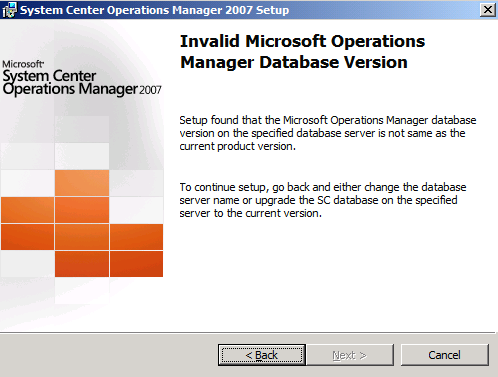 Cause.

System Center Operations Manager (SCOM) 2007 SP1 will not support a new installation of its databases onto SQL Server 2008 with SP1.

SCOM 2007 SP1 will support running its databases on SQL Server 2008 SP1 only if you are upgrading the database servers from SQL Server 2005. You can upgrade SQL Server 2005 to SQL Server 2008 RTM only. After you complete the upgrade, it is recommended you install SQL Server 2008 SP1.


For more information, see the following link:

Operations Manager 2007 SP1 Supported Configurations
http://technet.microsoft.com/en-us/library/dd819933.aspx