Cannot connect to WMI provider 0x8004100.

Applies to: Microsoft Windows Server 2008 R2, Microsoft SQL Server 2008 Standard Edition x64, Hyper-V

Problem Description.

All of a sudden a few Hyper-V servers were not able to access storage located on a EMC SAN. Once the issue with the SAN was solved, I found I was not able to open SQL Server Management Studio (SSMS) on a SQL Server 2008 instance. I was receiving the following error message whenever I tried to open SSMS:


Cannot connect to WMI provider. You do not have permission or the server is unreachable. Note that you can only manage SQL Server 2005 and later servers with SQL Server Configuration Manager.
Invalid class [0x8004100]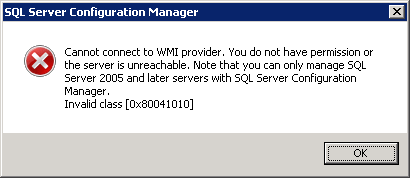 Cause.

The following article provides a reason for a similar error [0x8004100e]: KB956013.

It seems the sqlmgmproviderxpsp2up.mof was damaged during the issues with the SAN.

Solution.
I opened the Command prompt and navigated to the C:\Program Files <x86>\Microsoft SQL Server\100\Shared folder. There I ran the following command:

mofcomp sqlmgmproviderxpsp2up.mof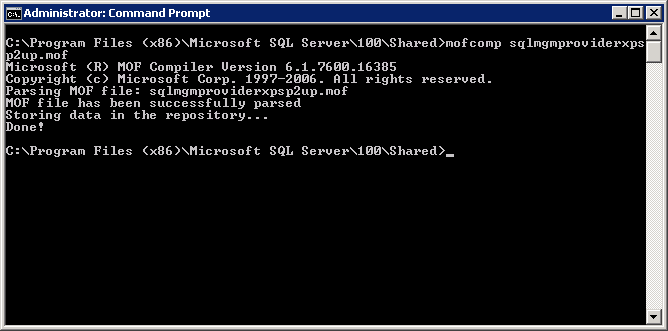 This solved the problem openning SSMS.