ORA-00911 Invalid Character.

Applies to: SQL Server 2008 R2 Standard Edition, Oracle 12i.

Problem Description.

While trying to query a table on SQL Server via an Oracle DBLINK, we received the following error.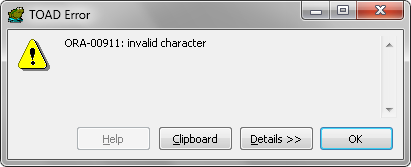 The query was constructed on the following way:


Select * from _tablename@dblinkname otc;
It seems the two leading underscore characters on the table name were the cause of the errors.

Workaround

The workaround was to use double quotes for wrapping the table name and the DBLINK name,

Select * from "_tablename"@"dblinkname" otc;