Backup to URL SQLSTATE 42000 Error 3271 Error 3013.

Applies to: SQL Server 2016 IaaS on Azure.
Date created: August 22, 2020.

Problem Description.

We have scheduled full and transaction log backups to an Azure storage account on a SQL Server 2016 instance. We suddenly found one of our scheduled backups failed with the following error:
Date 7/18/2020 4:00:00 AM
Log Job History (DBM - DAILY FULL BKP)

Step ID 1
Server WIN-ServerName
Job Name DBM - DAILY FULL BKP
Step Name ProdDatabase Full Backup
Duration 00:02:43
Sql Severity 16
Sql Message ID 3013
Operator Emailed
Operator Net sent
Operator Paged
Retries Attempted 0

Message
Executed as user: NT SERVICE\SQLSERVERAGENT. A nonrecoverable I/O error occurred on file "https://storagebak.blob.core.windows.net/bak/ProdDatabase_FULL_2020_07_18_04_00_00.bak:" Backup to URL received an exception from the remote endpoint. Exception Message: The remote name could not be resolved: 'storagebak.blob.core.windows.net'. [SQLSTATE 42000] (Error 3271) BACKUP DATABASE is terminating abnormally. [SQLSTATE 42000] (Error 3013). The step failed.

Cause.

The above error was related to the following incident on Azure DNS service.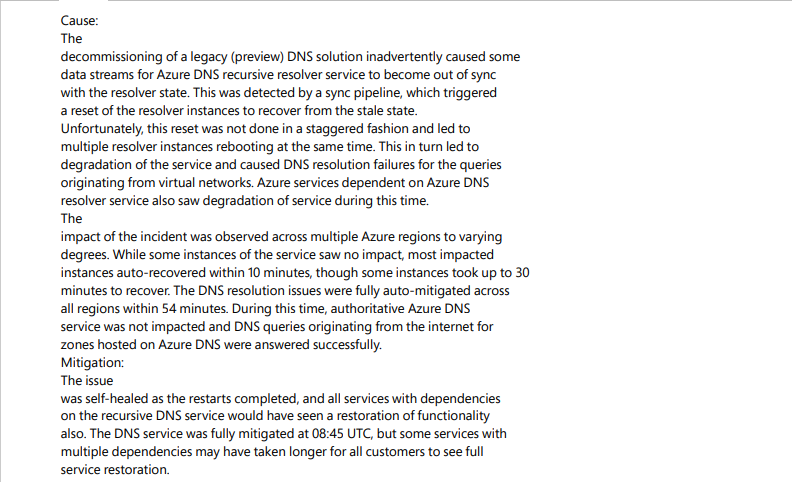 Once the incident was resolved the backup executed successfully again.